Welcome!!!
Edit
Welcome to the Happy Feet Wiki.The wiki that anyone can edit.And the wiki is all about Happy Feet stories.
Characters
Edit
For more information,see List of characters.
Characters
Edit
About The "Happy Feet" Story
Edit
Happy Feet is the movie which set in Antarctica.And the characters looks like the penguins.And the Happy Feet story began from Memphis and Norma Jean's son,he is named Mumble.Mumble is the penguin who can't singing a single note.But he can dancing.Later,he meets Gloria.She is the best singer in Emperor-Land.And when they grown up,Mumble planning to married with Gloria before the another can be her husband.
Mumble transform into hero and share "The Happy Feet" to anothers at the Emperor-Land.Mumble still can't singing,but Gloria loves him and married together.And has a son named Erik.Mumble with his friends,like Ramon,Lovelace,The Amigos and more,still can make The "Happy Feet Story".Mumble still the one who knowns as Master of Tap in Emperor-Land.With his Happy Feet dance.
Featured Article
Edit
Happy Feet TwoEdit
Happy Feet Two is the sequel from Happy Feet.Starring Elijah Wood, Robin Williams, Hank Azaria, Alecia Moore (P!nk), Brad Pitt, Matt Damon, Sofia Vergara,and Common.Released at November 18th,2011.And often promoted at Happy Feet Two :The Penguin.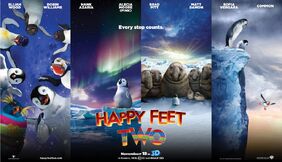 External Links
Edit
Ad blocker interference detected!
Wikia is a free-to-use site that makes money from advertising. We have a modified experience for viewers using ad blockers

Wikia is not accessible if you've made further modifications. Remove the custom ad blocker rule(s) and the page will load as expected.